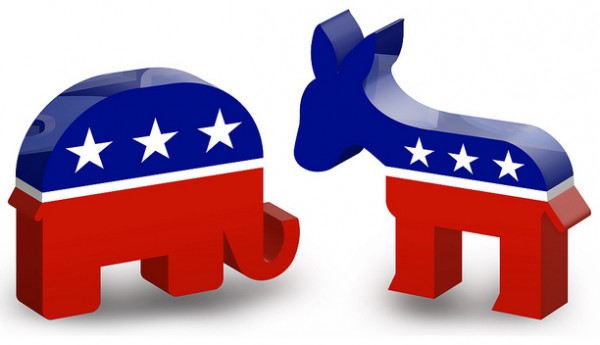 On November 4th there will be a midterm election in the US in which 33 of 100 senators and all 435 members of the House will be up for election (there are also state and local races).
I've tried to stay away from partisan US politics in my blog. I haven't hidden my opposition to President Obama's foreign policy, but I have avoided the progressive-liberal-conservative debate except when it touches on the conflict between Islam and the West. I have never discussed Obamacare and rarely mention immigration or voter ID, although as an American I clearly have opinions about these issues.
But today I have an extremely partisan message for Americans: Please elect Republicans to the House and Senate.
I am speaking as an American, but also as a Jew and an Israeli. I am asking for your help in preserving the Jewish people in one of the most dangerous times since WWII.
Barack Obama is an enemy of the Jewish state and the Jewish people. His policies — his actions — despite what he claims publicly, aim to weaken Israel and to prevent her from defending herself, while strengthening her greatest enemy, Iran. For example:
1. Despite all evidence that it would result in a terrorist enclave next to Israel's heartland, the administration continues to insist on withdrawal from the territories and the creation of a sovereign Palestinian state. It takes the positions that Israel is not sovereign in any part of Jerusalem, and that any construction outside of the 1949 armistice line is "illegitimate," whatever that means. It encourages European boycotts of Israeli goods over this issue. Pressure on Israel on these issues is unrelenting, even though Islamist violence throughout the region is exploding.
2. When Hamas viciously attacked civilians with its rocket barrages, the administration tried to prevent Israel from defending herself both by demanding that Israel unilaterally cease operations and by taking concrete actions — embargoing weapons deliveries, shutting down flights to Ben-Gurion Airport, etc. Obama and Kerry took the position that collateral damage in Gaza was 'disproportionate', despite the fact that the ratio of civilian to military casualties was better than that of any of the US or NATO operations in similar situations. Kerry promoted a ceasefire agreement proposed by Qatar and Turkey, the main supporters of Hamas, rather than the Egyptian version that was ultimately accepted.
3. Most important, administration policy toward Iran's nuclear program has been pusillanimous to the extreme. For example,
Al Arabiya on Monday [Oct. 27] cataloged [Arabic] a series of concessions that the Obama administration is rumored to have made to Iran as negotiations approach the upcoming November 24 deadline, a week after the New York Times reported on plans by President Barack Obama to "do everything in his power to avoid letting Congress vote" on a nuclear deal that many lawmakers have publicly worried will be inadequate to prevent Iran from acquiring nuclear weapons. The pan-Arab outlet suggested that lawmakers were particularly unnerved by reports of fundamental concessions across all core areas up for negotiations, including: that the U.S. has dropped its demand that Iran close its underground military enrichment facility at Fordow, that the U.S. has accepted Iran's characterization of its enrichment rights regarding uranium, that the U.S. will permit Iran to operate the plutonium-producing reactor at Arak, and that the U.S. has delinked Iran's ballistic missile program from the rest of its nuclear program. [continue reading]
Even if this is exaggerated, there is no doubt that Administration policy is to allow Iran to have the capability to enrich uranium, something which is needed only for weapons development and not for power generation. Iran will be left with a 'breakout' capability, which will permit it to deploy weapons in a matter of weeks or months. In the past the US has acted to prevent Israel from striking against Iranian nuclear facilities; if the coming agreement turns out to be as weak as expected, then US and Israeli interests will be directly in conflict.
Despite disingenuous pronouncements of support for Israel's security, this administration is aligning itself with Israel's enemies in a futile bid for the favor of Islamists, both the Shia and Sunni varieties. Unfortunately, an American president has tremendous power in foreign policy, and can't be deposed by a vote of no confidence as in parliamentary systems. After next week's election the President will be the lamest of ducks, and there will be little reason for him to hold back his anti-Israel animus.
The only limitation on the President and his cadre of unelected and unaccountable advisers is the US Congress. And, while there are exceptions, the primary opposition to administration policy comes from Republicans. Possibly some of them push back against Obama's anti-Israel actions out of partisanship, simply because they see an issue that resonates with many Americans, but frankly I don't care. It's enough that they try to restrain him.
I understand that you are concerned with domestic issues. But if you care about what happens to Israel and the Jews, think hard about this when you vote.