I spent a few minutes googling this afternoon. I wanted to see who was in favor of the Iran deal and who against. It turns out that nothing is a better litmus test for one's attitude toward Jews and Israel. Here is a short list, in no particular order: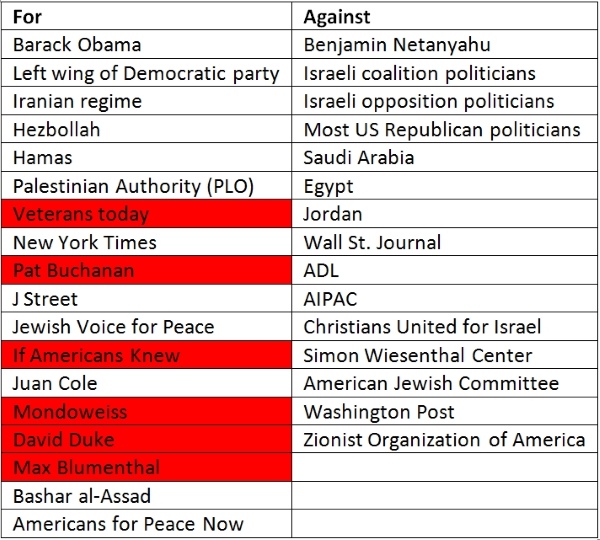 I left out people or organizations whose position was equivocal, like the Union for Reform Judaism and the Jewish Federations of North America. If Jews believed in the Devil, these organizations would have a hard time taking a position one way or the other on him, because it might be 'divisive'.
So who are for the deal? The ones highlighted in red are those who can be reasonably called 'Jew-haters', who favor the deal because they see it as leading directly to dead Jews.
Also in favor are the terrorist organizations such as Hamas, Hezbollah and the PLO. They also like dead Jews; in addition, they stand to benefit almost immediately from the massive infusion of cash they will get from the Iranians. This goes for Bashar al-Assad too, of course, who needs all the help he can get these days.
An interesting set of pro-dealers are what I call the 'soft haters': J Street and Americans for Peace Now. They claim to be for peace and to care about Israel but they oppose anything that helps the Jewish state and favor anything that hurts it. I could have added commentators like Peter Beinart and Thomas L. Friedman to this group.
There are also those who fall in between the soft haters and the hard core Jew-haters. They more or less take the same positions as David Duke et. al., but they are more careful about their rhetoric. Jewish Voice for Peace and the academic Juan Cole fit here.
What's left of the supporters are those who are close to or dependent upon Barack Obama. I thought about putting Hillary Clinton here, but she has very carefully hedged her bets. She'll blow in the wind as events and polls dictate.
For the opposition, we have three main groups:
First, the people who are actually endangered by an empowered Iran, which includes all Israelis wherever they are on the political spectrum, and the moderate Sunni Arab regimes. Every dollar that flows to Hezbollah and every ounce of enriched Iranian uranium is bad for them.
Second, Republicans. Some of them are motivated by good sense and patriotism,  understanding that Obama is taking America in a very dangerous — and cynical, even immoral — direction. Probably some just want to oppose Obama whenever and wherever they can. I want to believe that it's mostly the former, especially in the case of those Republicans who will be running for President next year.
I don't want to suggest that there aren't Democrats on the right side of this. Most are being quiet, "studying" the deal. The pressure that can be brought on them by the party and its leader is immense. They like their jobs. Wouldn't you?
Third and finally, we have the Jewish and Christian Zionist organizations who see the deal as dangerous for Israel and as marking an unprecedented split in the formerly good relationship between Israel and the US. These organizations, like the Israeli politicians, fall all over the left-right spectrum — from ADL to ZOA. But their primary objective is to protect the Jewish state.
An interesting argument can be made about the Christian Zionists: their critics claim they only support Israel because of their 'end of days' theology, which holds that Jesus will return after a major Middle East war. But if that is true, they should support the agreement with Iran, which if anything increases the chances of a destructive war in the region. And yet, they oppose it — possibly because they have been telling the truth about their biblical reasons for supporting Israel (Num. 24:9, Gen. 12:3, etc.) all along!
There are also a few media organizations that have actually done their homework and have pointed out the really big flaws in the deal — big enough, as someone said, to drive a truck bomb through. That would be the Wall St. Journal and the Washington Post. The NY Times, Obama's Pravda, doesn't do actual journalism on political subjects any more. It does have good crossword puzzles, and I used to like the book review section.
The truth is that the US politicians are impotent. Tomorrow morning, the UN Security Council will certainly approve the deal, making it much harder for the US to take unilateral action against it. Obama will announce that once the UNSC resolution has been passed, the US President will be bound to carry out its provisions, regardless of what the Congress says (or who the President is). The Congress will be furious, but they aren't likely to impeach him and remove him, which is the only way they can stop him from ordering the release of funds and the end of sanctions.
The international sanctions regime is already on its way out. German business leaders have already flown to Teheran, and Russia is salivating over the size of the market for its weapons — after all, Iran is supplying half the terrorist militias in the world in addition to its own armed forces.
It's a new Middle East out there, starting right about now. It's a new America, too, although I wonder if most Americans realize that.